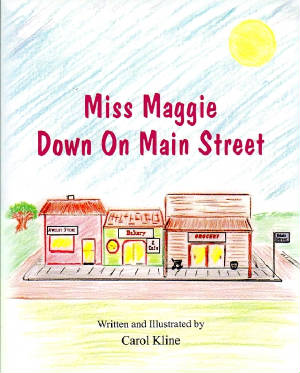 "Miss Maggie Down On Main Street"
A heartwarming tale set in rhyme that shows even the hardest heart can be filled with caring
when the right initiative is used: Love, Respect, Tenderness and Compassion!
Miss Maggie had all these gifts, and she was just waiting for the right one to come along to share them!
It's a tale as old as time and offers encouragement to children of special needs!
A great family story... filled with humor, warmth, and encouragement!
Order it now from Amazon.com by searching for the title by Carol Kline.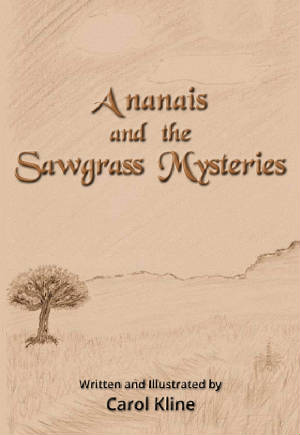 Ananais and the Sawgrass Mysteries
Second Place Winnter -
Florida State - 2015 Golden Palm Award
An adventure novel for middle school-age children and above,
this mysterious tale is set in the beautiful South Central Texas town
of Dripping Springs (just west of Austin),
and is the beginning of a series of adventure mysteries about a 12-year old boy,
his three little buddies, his grandmother, and two really bad characters!
It introduces the Legend of Wolf Girl!
Order it today from Amazon.com.
Search for the title and the author's name.
Dear friends and loved ones, During our daughter's recovery from a traumatic brain injury due to a horrific automobile accident in April 2010, I often made up little tunes and funny verses to make her laugh as I helped care for her. Prior to even being fully out of a coma, she would watch me and listen, and she would smile. It meant the world to me and gave me hope! While she is still non-verbal, she laughs out loud now, and even says a few words. She is learning to speak, to eat, and is now ( in 2022) walking with just someone beside her. It is my joy to see her smile and hear her laugh. Before her accident, Major Kristine Kline, RN, USAF, was a dedicated pediatric intensive care nurse, a wife and mother, a daughter and sister. She has and is the greatest inspiration of courage and hope I have ever known. Go to Amazon.com and search for the book title, "Home Of the Brave," by my name. With so much love,Carol Kline,Author and Mom!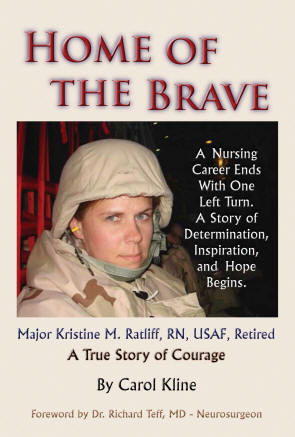 Home Of the Brave
A True Story Of Courage
People ask me every day, "How's your daughter doing?"
I simply stop and reflect, and thank God every day that she is here at all.
I consider all that she endures every today on this long journey back
from a traumatic brain injury, then I smile and say, "She is awesome!"
"Home Of the Brave"
is now available in the beautiful gift shop,
at Layser's Flowers, 501 W. Washington Ave., Myerstown, PA 17067.
Also available on Amazon.com - Search for the title and the author's name!
Carol is planning a sequel to her book of inspiration about their daughter.
In addition, Carol hopes to write pureed food a cook book for people with swallowing disorders.
Be on the lookout in the coming months for promotional information on this website.
Carol Kline is an inspirational speaker,
and is available to speak at your church, community group, school or library.